Microphone Check Lyrics is Latest Hindi Song Sung by Raftaar and music of this brand new Song is given by Raftaar while Microphone Check Song Lyrics are also writter by Raftaar while music video is released by Kalamkaar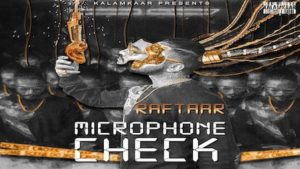 Microphone Check Song Details
| | |
| --- | --- |
| Song: | Microphone Check |
| Album: | Bar'ish Ep |
| Singer: | Raftaar |
| Lyrics: | Raftaar |
| Music: | Raftaar |
| Label: | Kalamkaar |
Microphone Check Lyrics
Microphone Check!
Baarish!
Check Ch Check Checkin' The Microphone
All Alone The Booth Poora Bhoot Wala Zone
Saare Saal Barse Bars Kalamkaar Amazon
Juda CPU Se UAD SSl Avalon
And I Learn Every Day Day
Tukke Wukke Bhede EQ Kardu Tedhe
Jab Bhi Bande Hai Nibede
Karun Mic Pe Bakhede
Maarun Trinity Mein Gehde
Tera Mayday Mera Payday
Dukhti Rago Ko Na Chhede
Bola Ek Honge Blow Up
Izzat Paisa Tall
Humse Khijne Wale Launde
Ho Gaye Blowup Jaise Doll
Choir Mein Hai Chorus Yeh Ji
I Will Never Fall
Thoda Delay Thodi Panning
Bade Begay Wala Hall
I Am On A Call
To Deal Kati Reel Chalu
Meek Milly Wheelie Wali Buddhi
Poori Feel Chalu Kaagaz Itne Ghisdu
Ho Gayi Pen Se jaise Jheel Chalu
Verses Jaise Kaanch Wale
Maanjhe Ki Ho Dheeli Dheeli Dheel Chalu
Kache Dhage Kate Bache Wache Bhage
Har Jagah Dage Wo Bhi Bina Sahi Wajah
Ab Bhi Seena Nahi Thake
Ab Toh Aate Mujhe Maze
Beta Ghar Baithe Sadne Se Chaubare Nahi Saje
Check Ch Check Checkin' The Microphone
Kalamkaar RR..
Am A Cold Killa Nahi Cord Dhilla
Main Dope Dealer Godzilla
Yeah Hai Sin-city Hai Skill Silly
Me Ill Witty
Infinity Tareeko Se I Kill Kitties
Sensitivity Mitti Mein Mil Miti
Mili Density Nahi Dilon Mein
Yeah Del City
I Rep My Town, Main Rap Mein Tau
Main Rap Mein Gaaun
Shehar Kheech Ke Map Pe Laun
Bro Asli Jeevan Mein God Mode Hack Lagau
Main Khali Dekhe Jau Paisa Bag Mein Lau
Main Khali Jaeb Hu Toh Paisa Saara Bank Mein
Bhau Main Jita Jodu Utna Mile Bank Se Bhaw
Mary Kom Wali Claas Heavy Weight Padhao
Main Kehta Hate Ghatao
Woh Kehte Weight Ghatao
Bole Gaanon Ke Bich Ka Thoda Wait Ghatao
Abhi Album Aayi Gali Ki Bhi Date Batao
Ye Updar Chadhne Wala
Kis Taraf Hai Gate Batao
Bole Hamare Career Ke Aage Se
Late Hatao Na Raa
Check Ch Check Checkin' The Microphone
Kalamkaar RR……
---
Song Writter :- Raftaar
---
Any Mistake in Lyrics? Please Report In Contact Section with Correct Lyrics
---
Microphone Check Music Video
---